Code:

[b]Name:[/b]
[b]Age:[/b]
[b]Gender:[/b]
[b]Race:[/b]
[b]Height:[/b]
[b]Magic/Weapon:[/b]
[b]Appearance:[/b]
[b]Bio:[/b]
[b]Other:[/b]
---
"Pon don't die... much"
- Pon
Name:
Pon
Age:
20
Gender:
Male
Race:
Human
Height:
5' 11"
Magic/Weapon:
Cracked magic
Appearance: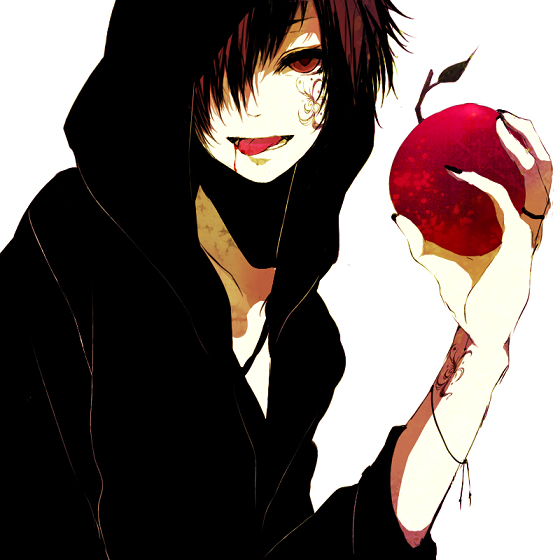 Bio:
Pon was once an adventurer, hired to search for a missing child thoughtto have entered Dikoji. For many weeks after entering, people could hear screaming coming from within. Suddenly it fell quiet. The child returned, traumatized but unharmed, but Pon never returned.
Other:
Pon, due to sanity loss from the Cracked Magic, no longer feels pain in his hands. He has actually nibbled on the tips of his fingers right to the bone, adding to his unsettling appearance.
How he has survived his biting:

Pon has been cursed with Immortality. This immortality however does not heal his injuries, it merely keeps him alive through the injuries. What Pon means by "Pon don't die much" is: when he suffers a fatal injury, or otherwise should die, he instead enters an undead until his body mends itself.
Last edited by Townshend on Thu Oct 26, 2017 12:57 pm; edited 1 time in total

_________________
They ain't got BALLS LIKE MINE!
(╯°_°)╯︵ ┻━┻

Yoshiki

Admin




Posts

: 2421


Join date

: 2013-08-09


Age

: 24


Location

: Home



"I only ever knew one hero...perhaps I can finally return his kindness"
- Thalaj
Name:
Thalaj
Age:
21
Gender:
Male
Race:
Fae
Height:
5' 7"
Magic/Weapon:
Weak Earth Magic
Appearance:
Bio:
A lowly Fae to humans and a deformed freak to his people, Thalaj was born albino and wingless. Without combat skills and only wielding weak magic, Thalaj was quickly taken by slavers and sold to a Fok'Rith caravan of entertainers to be part of their freak show. Forced to flaunt his wingless back and endure ridicule from dawn to dusk, Thalaj resigned himself to this cruel life. It wasn't until the caravan was attacked outside Marak that Thalaj found freedom. However it wasn't because he had run during the chaos. He was caged and leashed with no hope of escape, but a knight of Marak spotted him and set him free.
With no family or friends to turn to after the caravan was forced to release him, Thalaj was taken in by the knight. Many thought the knight just wanted a servant, but he never gave Thalaj orders. The knight treated Thalaj well and even helped the fae open a flower shop where he could use his magic to grow flowers on demand for customers. All seemed well until the knight left on a journey and never returned.
Other:
Thalaj is very frail, but he can grow various healing herbs with his magic as long as he can touch the ground.

_________________
They ain't got BALLS LIKE MINE!
(╯°_°)╯︵ ┻━┻

Yoshiki

Admin




Posts

: 2421


Join date

: 2013-08-09


Age

: 24


Location

: Home



For Echo
Name:
Raiva Soliel
Age:
10
Gender:
Female
Race:
Daemon (fire)
Height:
6' 5"
Magic/Weapon:
Fire Magic and a warhammer.
Appearance:
Willowy figure, long fiery orange 'hair', and narrow red eyes.
Bio:
A man-made Daemon, Raiva Soliel was an outcast by others of her kind but beloved by her father. Lucas Soliel was a blacksmith for the Marak Knights and both loved and hated. Some hated him and blamed him for every life his blades took, while others hailed him as a true patriot to his kingdom. When a customer told Lucas that tossing a stone into his furnace would grant him his deepest wish he laughed, but eventually tried out of curiosity. 11 days later, Raiva was born. A sweet girl that wanted nothing but his company, Lucas' shop was filled with laughter for the first time in 30 years. Though Raiva suffered from rejection of her kind, Lucas was always there for her. Until the night of the fire.
Monsters invaded Marak and ransacked the city. Lucas told Raiva to run and she did, not noticing until it was too late that Lucas was not behind her. After the monsters were defeated, Raiva rebuilt the old shop and began working tirelessly to perfect her weapon making. That day, Raiva decided the monsters would die by her hands.
Other:
Raiva is normally calm, but much like her element her anger can flare out of control if she isn't careful.

_________________
They ain't got BALLS LIKE MINE!
(╯°_°)╯︵ ┻━┻

Yoshiki

Admin




Posts

: 2421


Join date

: 2013-08-09


Age

: 24


Location

: Home





Similar topics
---
Permissions in this forum:
You
cannot
reply to topics in this forum