Name:
Age:
Height:
Weight:
Classes: Major - , Minor -
Bio:
Appearance:

Yoshiki

Admin




Posts

: 2421


Join date

: 2013-08-09


Age

: 24


Location

: Home



NAME: Sasha Gray
AGE: 18
HEIGHT: 5' 4"
WEIGHT: 110 lbs.
GENDER: Female
CLASSES: Minor: Math ; Major: drama
APPEARANCE: Long, wavy, black hair, flowing to waist. Skinny, black jeans. Tight, black, t-shirt. Black running shoes, with white soles, and rainbow shoelaces. Purple eyes, with black eye liner, and pink eye shadow. Tattoo on her left arm (black butterfly). Scar on her right arm. Scar on her stomach.
PERSONALITY: Quiet. Withdrawn. Hates large crowds. Likes to be alone.
OTHER: She doesn't have any real friends. They all turned on her, and almost killed her. They put her in the hospital (they brought a knife, to a fist fight). She is not athletic. (Yes, this character reflects me, but is not me.) She has a half brother that she doesn't know about.

_________________
I am an Asgardian princess, who loves wolves
Name: Hiram Grey
Age: 19
Height: 5' 10"
Weight: 112 lbs
Classes: Major - Music(vocal) , Minor - Music(Guitar)
Bio: Hiram was raised by his strict and religious grandfather. A rebel through-and-through, Hiram was always causing trouble with teachers and students alike until he found an outlet: music
Appearance:

_________________
They ain't got BALLS LIKE MINE!
(╯°_°)╯︵ ┻━┻

Yoshiki

Admin




Posts

: 2421


Join date

: 2013-08-09


Age

: 24


Location

: Home



Name: Desiree 'Desmond' Kirkland
Age: 18
Height: 6' 0"
Weight: 110 lbs
Classes: Major - Drama , Minor - Gym
Bio: Disowned by his parents for being Transgender, Desmond grew up with friends who took him in. He's struggling to find funding for his transition and he's finding it hard to deal with being legally female still. (may expand on Desmond later)
Appearance: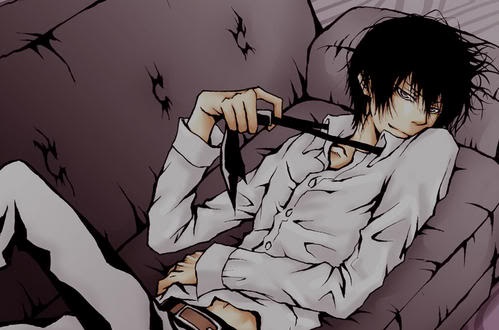 _________________
They ain't got BALLS LIKE MINE!
(╯°_°)╯︵ ┻━┻

Yoshiki

Admin




Posts

: 2421


Join date

: 2013-08-09


Age

: 24


Location

: Home





Similar topics
---
Permissions in this forum:
You
cannot
reply to topics in this forum