Yoshiki

Admin




Posts

: 2421


Join date

: 2013-08-09


Age

: 24


Location

: Home



Name:
The Past
Age:
Unknown
Gender:
Male
Height:
6' 2"
Bio:
Found by The Order wandering Toluca Prison, they thought him to be a deity sent by God to serve them. After accidentally killing him, The Order realized The Past's ability to come back to life and spent years killing him and forcing him to kill others to test his abilities. At night priests would sometimes visit him to kill or abuse him, using him as an outlet for their unexpressed feelings.
Personality:
No one knows his true personality. He tends to change his demeanor at random.
Appearance:
Dull, brown hair kept in a ponytail (save for his bangs). Has fairly big, expressive, Olive Green eyes, a slender build, and fair skin. The Past usually wears dull, black funeral attire.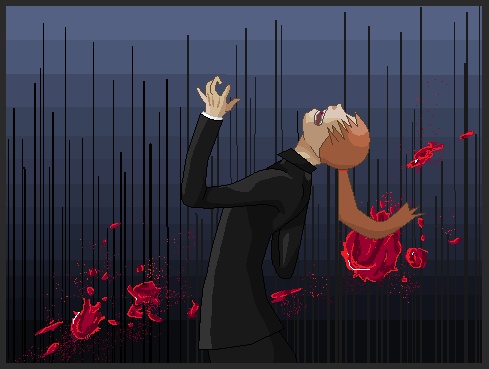 Other:
Has the unique ability to hear thoughts and teleport.
The One Truth:

The Past is actually the resurrected form of a boy from Shepard's Glen named Gideon Fitch. Gideon was always sickly, having a weak heart and lungs, and his father helped him medically while his older sister Scarlet took it upon herself to help him with school since he could rarely leave the house. The young boy was instructed never to enter the basement, but when his father took Scarlet down Gideon made a choice. And it was this choice that lead to his demise.

Gideon witnessed his father dismember Scarlet and screamed, alerting his father to his presence. Out of fear and confusion Gideon ran away, but had to stop in the middle of the road. A car passing through didn't see poor Gideon until it was too late and hit him at full speed. Gideon survived the hit, but had to be taken to the hospital in Silent Hill. An 'Angel of Mercy' saw the trauma in poor Gideon's eyes and triggered a Pulmonary Edema, killing him.

Scarlet, grieving over her brother's death, was visited by six other spirits: four had been sacrifices like Scarlet and two were people called to Silent Hill and killed by The Order. The six spirits had devised a plan to avenge their deaths and destroy The Order, but they needed one more soul to help create their 'Angel of Vengeance'. Scarlet agreed and was given the honor of deciding the image of their Angel. Scarlet had thought, but grief took her again during the ceremony and as they poured their energy into a rat and let it fall to the leech-filled waters below all she could think was
"what would he have looked like as a grown man?"
"what if he wasn't sick?"
"I just want him back"
"I never thought he'd die"
The thing they created crawled out of the water, coughing up leeches and gasping for air. It was strong, it was quick, it was perfect.But, when the spirits tried to speak to it they realized they had made a mistake. While his image and power was perfect, he was not bound to them, and therefor he could not hear their demands.
Last edited by The Past on Wed May 21, 2014 12:27 am; edited 1 time in total

_________________
They ain't got BALLS LIKE MINE!
(╯°_°)╯︵ ┻━┻

Yoshiki

Admin




Posts

: 2421


Join date

: 2013-08-09


Age

: 24


Location

: Home



Name: Alexia Hart
Age: 24
Height: 5' 8"
Gender: Female
Appearance: Brown hair, cut short. Brown eyes. Blue jeans, held up by a brown leather belt. Pink tank top. white running shoes.
Personality: Is caring, but can be cold at times. Has no idea how to accept her partners death, and so inside she is depressed, and tries to show no fear.
Bio: Was a a police officer, until she was kicked off the force for killing her partner in a shoot out by accident. Now she roams the streets looking for work. Abandoned by her family, she lives in old warehouses, and steals things to live.
Other: Doesn't like talking about her past.

_________________
I am an Asgardian princess, who loves wolves
Name:
Dimitri Zolnerowich
Age:
25
Gender:
Male
Height:
6' 0"
Bio:
A Shock Artist for a traveling freak show, Dimitri Zolnerowich lost his parents in a car crash and was raised by his abusive uncle. At age 12 Dimitri was sold into slavery and worked in a mine. He was 16 when a little girl named Anya was brought in to work. She cried and cried until one of the slavers came to punish her, but Dimitri snuck up behind them and pierced their skull with his pickaxe. He managed to escape that day, but he was the only one. All the other children were killed trying to escape as well.
Dimitri lived on the streets for 4 years until he saw the freak show and ended up becoming the student of their professional shock artist. He studied day and night, if he wasn't learning about shock art he was learning to apply SFX makeup from a master who fooled all. When Dimitri began having nightmares his 'freak family' wanted to follow, but he knew he had to go alone
Personality:
Quiet and shy, but protective and hard to scare off
Appearance:
the 'mouth' on his stomach is actually SFX makeup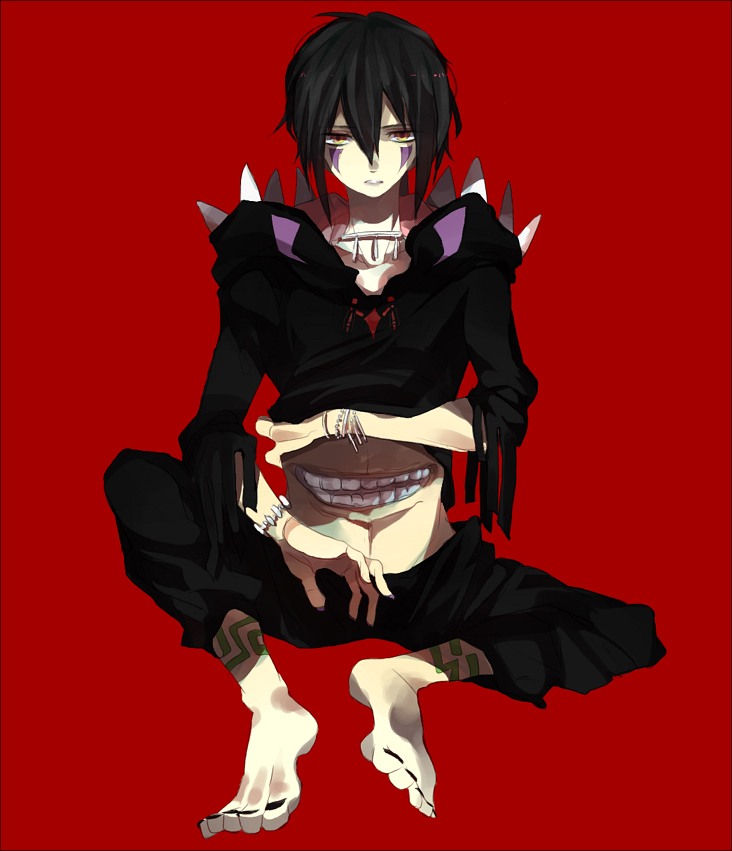 Other:
Dimitri still bares the slavers' brand on his stomach

_________________
They ain't got BALLS LIKE MINE!
(╯°_°)╯︵ ┻━┻

Yoshiki

Admin




Posts

: 2421


Join date

: 2013-08-09


Age

: 24


Location

: Home




---
Permissions in this forum:
You
cannot
reply to topics in this forum