Name:
Age:
Gender:
Height:
Weapons/powers(powers are optional):
Appearance:
Bio:
Other:
Name: Unknown
Age: Unknown
Gender: Female
Height: 6' 0"
Weapons/powers: Malice waves and Kiss of Malice
Appearance: Please give her red eyes rather than purple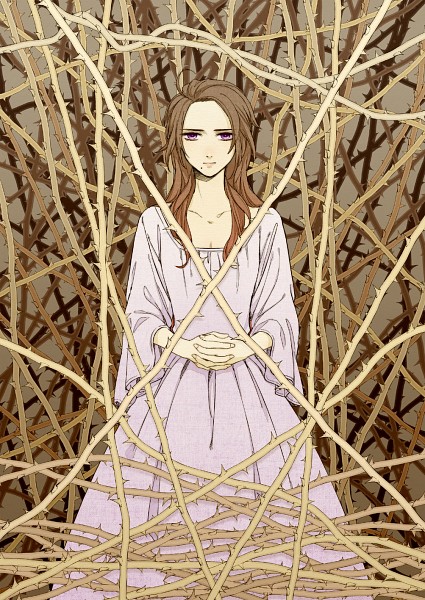 Bio: Nothing is known about this woman. She simply appeared one day and began to wander, seemingly in search of something...
Other: She seems emotionless and says nothing at all. She and Kohaku have met before

_________________
They ain't got BALLS LIKE MINE!
(╯°_°)╯︵ ┻━┻

Yoshiki

Admin




Posts

: 2421


Join date

: 2013-08-09


Age

: 24


Location

: Home



Name: Kohaku Uesugi
Age: 28
Gender: Male
Height: 6' 0"
Weapons/powers: Harmonixer. When not fused Kohaku uses twin blades
Appearance: The brunette. His eyes went red after receiving The Kiss of Malice, this is because the malice saved his life and went straight to his fusions
Bio: Kohaku remembers very little of his life. His earliest memory is of being half conscious on the side of the road as he dragged himself along and receiving the Kiss of Malice from the mysterious woman. The Kiss of Malice saved his life, but at a price. He now must try to control the malice in his body, lest he become a monster.
Spoiler:

As you can probably tell from the picture, Kohaku was murdered. He was a poor father with an abusive wife and ailing child, but he held his head high and tried his best to provide for them. 'Kohaku Uesugi' isn't his real name, his real name is Shikamaru Soto, but after the beating he took to the head he lost all his memories. He ended up wandering into a cemetery in a daze from The Kiss and took his name from one of the graves in the back. By sheer luck the real Kohaku Uesugi was a loner with no family and no one to remember him.
Fusions
Earth:

Shuten-dōji

A being that was once human, he was the son of a blacksmith in Echigo. He was in his mother's womb for 16 months, and he had teeth and hair when he was born, was immediately able to walk, was able to talk on the level of a 5-6 year old, had the wisdom and physical strength of a 16 year old, and had a rough temperament, and due to this unusually ready wit, was shunned as an "oni child." According to Zentaiheiki, afterwards, when he was 6 years of age, he was abandoned by his mother, wandered from place to place, and then walked the path towards being an oni.
Water:

Rán

Norse goddess of the sea, this spirit grants safe travel when sacred and causes deadly storms when scorned.
Fire:

Hors

Slavic Sun God, he brings a bountiful harvest when sacred and destroys crops when scorned
Wind:

Zephyrus

(wears a black chiton with the upper-half torn off)

Zephyrus, the Greek god of the west wind, was the gentlest of the winds. Zephyrus is known as the fructifying wind, the messenger of spring. Zephyrus fell in love with a spartan named Hyacinth and courted him, and so did Apollo. The two competed for the boy's love, but he chose Apollo, driving Zephyrus to hide out of sorrow.
Light:

Paean

The Physician of the Gods, Paean only grants his power to a soul that knows mercy.
Dark:

Yūrei

Despite its more human-like appearance, Yūrei is a powerful corrupting force. Many stories surround his existence, but alas none who knew his beginnings live to this day

_________________
They ain't got BALLS LIKE MINE!
(╯°_°)╯︵ ┻━┻

Yoshiki

Admin




Posts

: 2421


Join date

: 2013-08-09


Age

: 24


Location

: Home



Name: Boden Dahl
Age: 24
Gender: Male
Height: 6' 0"
Powers: Light magic
Appearance:
Bio: A descendant from a family of famous doll makers and puppeteers, Boden learned every doll making technique and puppeteering style. Boden was the first in his family to inherit his ancestor's spiritual powers. This lead Boden to start his business: summoning the souls of loved ones into his dolls to speak with the living for one hour before being sent back.
Other: Boden is physically frail, he uses his puppet to fight.
The fighting puppet:

A ball-jointed doll named Koboshi that is 4' 0" tall and used in combat. He was made androgynous so when used to summon souls they feel comfortable no matter the gender.
Spells:



Exorcist Arrow - summons a bow of light that he and his puppet shoot.
"Sacred Powers, cast your purifying light upon these corrupt souls"


Elder Sign - used to give his puppets the illusion of life.
No spell, just a sigil on the puppet


Nova - creates a bright light that blinds enemies and repels evil spirits.
"Oh stars in the sky come, appear before my eyes and answer to my call"


Sanctuary - forms a safe haven in dangerous areas.
"My power shall become a shining beacon, that will protect your broken wings"


Resurrection - used to summon souls into his dolls.
"I call upon the Heavenly Messengers, Bring back this soul from Purgatory"


_________________
They ain't got BALLS LIKE MINE!
(╯°_°)╯︵ ┻━┻

Yoshiki

Admin




Posts

: 2421


Join date

: 2013-08-09


Age

: 24


Location

: Home



Name:
Vastita
Age:
27
Gender:
Female
Height:
5' 10"
Weapons/powers:
Spear/Spirit Contract
Appearance:
Bio:
The daughter of her tribe's chieftain, Vastita knew each family and quickly learned each path they wandered near Machu Picchu. Constantly on the move, Vastita and her brother Gaudion were used to never settling for long unless someone was pregnant. After surviving an attack on her tribe by the mysterious Lady, Vastita swore vengeance.
After saving the world from The Gate of Malice, Vastita stayed with Kohaku as she tried to come to terms with what happened to her tribe and Gaudion. Being the sole survivor, Vastita had no hope for her tribe.
what happened to Gaudion:

Gaudion Transformed

Though Vastita thought he was dead, Gaudion was still just barely clinging to life when Lady gave him The Kiss of Malice. Driven mad by the malice and consumed by a need to find Vastita, when the two were reunited Gaudion succumbed to the malice and was transformed into a monster. After defeating him in battle, Gaudion regained his human form just long enough to say goodbye to Vastita before dying.
Other:
Vastita's tribe wandered near Machu Picchu because they were tasked with protecting the Malice Seal within.
Spirit Contract:

Miserati

A spirit of Light, Miserati was revered by Vastita's tribe as a protector. After besting Miserati in battle Vastita was granted the Spirit Contract with Miserati.

_________________
I am an Asgardian princess, who loves wolves
Name:
Zareh Kasabian
Age:
700+
Gender:
Male
Height:
6' 2"
Weapons/powers:
Rapier/Earth Magic
Appearance:
Bio:
Known as 'The Tearful Magician', Zareh Kasabian was a powerful but reclusive man. Years ago, a pair of twins hunted Zareh down and cast a spell of servitude on him and bound Zareh to their will. For years Zareh was forced to raid villages and steal mystic heirlooms, his tearful eyes and remorseful voice earning him the title 'The Tearful Magician'.
Zareh has lived for so long because he is a vampire. Unlike in the stories, vampires are not made and are born to vampire parents. Zareh is from a fairly low-standing vampire family and thus wasn't very well-versed in vampire magic. However, Zareh excelled with Earth Magic to protect himself, his family, and the humans in his land(without the humans knowing).
Zareh is currently still bound by the spell of servitude as the twins' spirits haunt an abandoned house in a long forgotten town.
Other:
Zareh is very familiar with Malice and its effects on the world and people.

_________________
They ain't got BALLS LIKE MINE!
(╯°_°)╯︵ ┻━┻

Yoshiki

Admin




Posts

: 2421


Join date

: 2013-08-09


Age

: 24


Location

: Home



Name:
Nakia Kasabian
Age:
700+
Gender:
Female
Height:
5' 8"
Weapons/powers:
Throwing Knives/Earth Magic
Appearance:
Bio:
Wife of Zareh's late brother, Nairi Kasabian, and mother of two, Nakia has known much heartache but held on to her sweet and happy personality. From a fairly high-standing vampire family, Nakia's marriage to Nairi was seen with digust and contempt but Nakia gave up everything for Nairi's innocent and loving soul.
Nakia lost Nairi when, as punishment for resisting the spell of servitude, Zareh was forced to attack his brother. Nairi knew that if he fought back he could have easily overpowered Zareh, but ever willing to give up for his family Nairi let Zareh take his life so Zareh could live.
Nakia now travels the world with her children, posing as humans, in search of Zareh.
Other:
Deep in her heart Nakia knows Zareh wasn't in control, but Nakia still resents Zareh for Nairi's death.

_________________
I am an Asgardian princess, who loves wolves


Similar topics
---
Permissions in this forum:
You
cannot
reply to topics in this forum