Code:

[b]Name:[/b]
[b]Age:[/b]
[b]Gender:[/b]
[b]Height:[/b]
[b]Occupation:[/b]
[b]Appearance:[/b]
[b]Bio:[/b]
[b]Other:[/b]
---
CHALLENGE
Instead of using the above template, write about your character as if he or she were talking. This can be done in diary entries, a monologue, or any other format you wish that suits your character

_________________
They ain't got BALLS LIKE MINE!
(╯°_°)╯︵ ┻━┻

Yoshiki

Admin




Posts

: 2421


Join date

: 2013-08-09


Age

: 24


Location

: Home



Decided to do both
Name:
 Jack
Age:
 around 19
Gender:
 Male
Height:
 6' 1"
Occupation:
 Unknown
Appearance:
 this is a picture taken by a remote security camera before he smashed it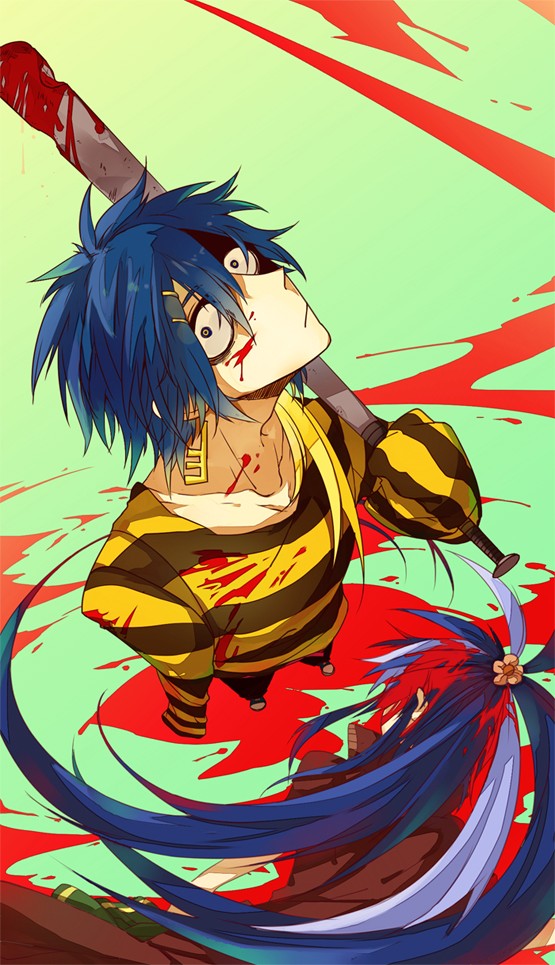 Bio:
 Jack is an amnesiac. He woke up weeks after what happened in a hardware store with the door barricaded. He has vague memories of before: sounds, smells, etc., but he has no idea who he is or what happened to him. He took the name Jack because it was the first name he could think of. Due to numerous attacks during the night Jack has developed insomnia, which has given his eyes their crazed look.
Other:
 Jack has a scar on his chest and back corresponding with a bullet wound that is dangerously close to his heart.
Plot Relevant:

Name:

Taylor Greyson

Age:

19

Gender:

Male

Height:

6' 0"

Occupation:

College Student (Gymnastics)

Appearance:

Sammy, Taylor, and Flit(Replicant)

Bio:

Taylor was the older brother of Sammy. When the army started killing everyone he and Sammy got separated and Taylor got shot. He was saved by the Replicant, Flit, who fused their bodies to give Taylor the durability of his kind. Though Taylor was saved, the merging caused too much stress on Taylor and he fell unconscious. Flit had some time before he would disappear in Taylor's mind and he used that time to barricade the door to the store they hid in.

Other:

Flit merging with Taylor caused the stress that triggered Taylor's amnesia
---
Hoo boy, where to begin. To be honest I can't tell ya much 'cause... well... I don't remember anythin' before everyone disappeared. I remember runnin'... the sound of gunfire... and a sharp pain in my chest... But what's past is past, can't do nothin' with it. Nowadays I do what I can to survive, sometimes havin' to deal with
them
.
Huh? Who's
them
? Right right, if y'knew that you'd have moved on by now. When I say '
them
' I mean survivors that have gone mad. Loneliness breeds madness I guess. Anyway, I try not to think 'bout
them
. Thinkin' 'bout
them
fer too long can be maddenin' in itself. It's easier to think o' them as animals in need o' mercy.
Bandits aren't as big a problem as you'd think. There aren't too many people left t'be bandits. No, what makes 'em dangerous is how strong they are. One group I met called themselves 'The Raptors', an' that's exactly how they attacked. The only reason I survived was 'cause I my wrists are thin an' the guy that tied me sucked at knots.
I think the hardest part o' livin' in this wasteland is findin' companions only to watch them fall one by one.
my old companions, if ya wanna know 'bout 'em:

That's Greg, his son Joey, and his wife Helen. Greg was definitely a father-type, always guidin' and consolin' everyone. When Helen died we did our best to help 'im, but her death hit 'im hard. Greg finally lost it when Joey was lost. He started talkin' crazy, snappin at anyone who tried to snap 'im outta it. We never did find his little tyke.

Ah, Morris. A carpenter before everyone disappeared. He was a very protective type, quick with 'is hammer if one o' 

them

 got too close. Tried savin' Sammy after she fell into an elevator shaft, but the elevator was at the top floor and started fallin'. Lost Sammy and both 'is arms. Last I saw he was alive, but he left the group an' said somethin' 'bout makin' a safe place fer us to return to.

Poor Sammy. We found 'er tremblin' in a dumpster with a stuffed bird toy. Even though she was a shy girl she always came over if you were sad and did what she could t'cheer ya up. She was lost when one o' 

them

 startled 'er an' she fell into an elevator shaft.

Kyle was good friends with everyone. A real pal. He was also really good at spottin' things. As you can probably guess, Kyle fell onto some hard luck: First his eyesight started goin', then he became one o' 

them

. I kinda miss 'is non-psychotic laugh.

Nick knew how t'have a good time. He always kept spirits high with 'is wild stories. Nothin' seemed t'bother 'im: People disappeared? he now 'as an excuse t'dress as a pirate. Low on food? he'll eat next time. *sigh* Nick was the one who stayed the longest, but I guess losin' everyone got to 'im 'cause one night... he just left. I woke up, an' he was gone. I just hope he's alright.

_________________
They ain't got BALLS LIKE MINE!
(╯°_°)╯︵ ┻━┻

Yoshiki

Admin




Posts

: 2421


Join date

: 2013-08-09


Age

: 24


Location

: Home



Name:
Phoenix 'Nick' Auditore
Age:
21
Gender:
Male
Height:
5' 11"
Occupation:
Day-care Attendant
Appearance:
Bio:
Phoenix was always a reserved and soft-spoken man. He cared for the children at Day-care like they were his own, and after all the kids went home he would visit his grandmother in the hospital to brighten her day. Phoenix survived what happened by hiding in an abandoned farmhouse, though he doesn't know what started it all.
Other:
Phoenix wears glasses, but his vision is 20/20. What is he hiding?

_________________
They ain't got BALLS LIKE MINE!
(╯°_°)╯︵ ┻━┻

Yoshiki

Admin




Posts

: 2421


Join date

: 2013-08-09


Age

: 24


Location

: Home





Similar topics
---
Permissions in this forum:
You
cannot
reply to topics in this forum