Code:

[b]Name:[/b]
[b]Age:[/b]
[b]Gender:[/b]
[b]Height:[/b]
[b]Category:[/b]
[b]Abilities:[/b]
[b]Bio:[/b]
[b]Appearance:[/b]
[b]Other:[/b]
Name:
Castiel Lestat
Age:
1800 + (equal to 18 years to his species)
Gender:
Male
Height:
5' 11"
Category:
Contractor (He is a demon, but angels can also be under this category)
Abilities:
In his true form he has inhuman speed, strength, and reflex. In his human form he can show whoever he has a contract with their greatest dream
Bio:
Castiel was once human. He lost his mother during his birth, and his father was killed in a random attack. A Contractor approached him, intent on eating him, but instead converted him. He loved the story of Alice in Wonderland and so he based his new older appearance on The Carpenter, an obscure homage to the great tale. Castiel has trouble keeping his form truly human so that is why nails protrude from his neck and hands. He feeds on the souls of humans he makes contracts with, but what is unique about him is, even though he is classified as a demon, once consumed the soul is reborn. He hates being in his true form because it reeks of rotted flesh. The stench is strong enough to knock out those with sensitive noses. After granting the wish of a girl he had a contract with who, since the loss of her legs, wanted to be a mermaid so she could swim again Castiel was suddenly embraced by the tearful girl. She wasn't crying because he was going to eat her soon, she cried out of joy, and this confused Castiel. He came to the school to learn more about Contractor Class Demons and why only he causes rebirth
Appearance:
Human... ish
Can't really see, but he wears a work apron, jeans, and black construction workers boots. The nails can be removed and used as projectiles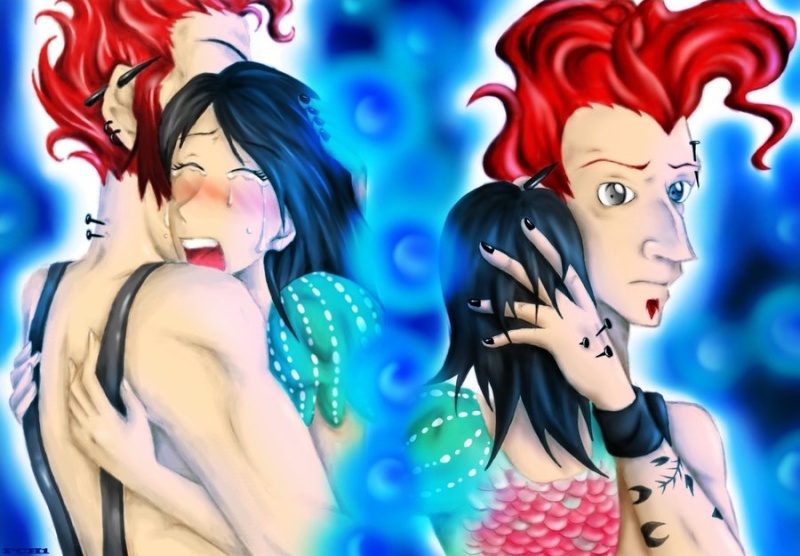 True Form
Reeks of rotten flesh, and his eyes can cause humans to suffer nightmares for two months. He has a myth about him that calls him a fallen angel that brings ill will and death to those that see him
Other:
Castiel can eat regular food, but it does little to nourish him. When a Contractor takes a soul to consume it it takes the form of a small round gem. Castiel describes the different tastes as:
Sweet - Innocent
Bitter - Cold Hearted
Rotten Meat - Cruel
Bittersweet - Redeemers
Ripe Fruit - Kind Hearted
Needless to say, Castiel doesn't eat a lot of Cruel people. His favorite taste is that of Redeemers. When he makes a contract with someone who is unkind, he can choose to show them a nightmare instead of a dream and deny them rebirth
Name:
Alfard Bonnefoy
Age:
17
Gender:
Male
Height:
5' 4"
Category:
'Accident' (Creatures born from a human having their way with a mythical creature or vise versa are put here)
Abilities:
Siren's Voice
. Can captivate humans with song and make them do whatever he pleases
Bio:
Alfard was born of a human prince and a Siren. The human promised to marry the Siren, but after bedding her the human left. The Siren followed and found out the human was to be wed with someone else. He made reference to her only once to his fiance, giving her description besides her inhuman traits, and said he was describing his 'sister'. When Alfard was born he was raised to hate humans and trained with a rapier to hunt them. Before he could start hunting he was taken from his mother and forced into one of the many schools for mythical beings.
'Accidents' being rare, Alfard had few to relate to. Most were either depressed or catatonic from the realization, none were trained to hate as he was. It was plain to see that he was restless. Every night he would sneak out and see his mother in the forest. She gave Alfard his many earrings, telling him they were a symbol of her love and his father's regret. Alfard got into a lot of fights while he was at the school, usually due to students mocking him for being the unclaimed child of Prince Bonnefoy, and soon was forced to transfer to Grimm.
Appearance:
Other:
Alfard's earrings were a 'I'm Sorry' gift from his father to his mother. A dark aura surrounds him, forming a silhouette of his mother. Alfard can't see the aura, nor does he know it's there.
Name:
Mira Bonnefoy
Age:
17
Gender:
Male
Height:
5' 4"
Category:
'Accident'
Abilities:
Siren's Tears
. His tears can be used to cure poisons and other toxins, but not illnesses
Bio:
Mira was taken from his family at the age of 6. He saved his twin brother Alfard from being taken by hiding him in their 'secret room' under the floorboards. He was trained, just like Alfard was, at a young age to hate humans and use weapons. Unlike Alfard, Mira was trained with twin blades rather than a rapier. Mira was able to let go of his mother's teachings with little difficulty thanks to being so young.
He was taken to Grimm after, just like Alfard, he got into fights in the other school. At Grimm, Mira was able to redirect his aggression and focus it into training to become part of security. When need be he also acts as a nurse, though this is rare since the nursing staff has many nurses and there are very few cases of poison in the school.
Appearance:
Other:
Mira is much calmer and stronger than his twin brother Alfard. Very few have the guts to mock his category while in his presence, or mock any other 'Accident' student for that matter.
(I made Alfard and Mira while listening to Mordred's Lullaby by Heather Dale)

_________________
They ain't got BALLS LIKE MINE!
(╯°_°)╯︵ ┻━┻

Yoshiki

Admin




Posts

: 2421


Join date

: 2013-08-09


Age

: 24


Location

: Home



Name:
Sasha Gray
Age:
170 (looks and acts 17)
Gender:
Female
Height:
5'1"
Category:
'Accident'
Abilities:
Vampire Bite
She can grant immortality if she bites you and exchanges blood.
Bio:
Doesn't really remember her past. All she remembers is being attacked by humans for being a half vampire. She sometimes have flash backs from her past, as she slowly remembers. She is distant because of this. Was admitted to Grimm, as the human school was too afraid to have her as a student.
Appearance:
ignore the claws.. also her eyes glow red when shes thirsty. once shes fed they return to blue.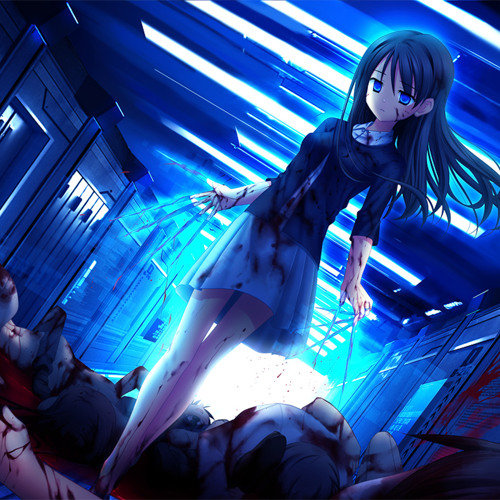 Other:
Can eat regular food, but prefers blood(cant survive without blood). Has no family that she knows of (she cant remember her family)
Last edited by Echo on Sat May 06, 2017 12:21 am; edited 2 times in total

_________________
I am an Asgardian princess, who loves wolves
Name:
Jutendouji
Age:
29
Gender:
Male
Height:
6' 2"
Category:
Decay
Abilities:
Touch of Death
. Despite the name this ability is actually the ability to kill or revive the recently deceased with a touch. This applies to people, animals, and plants.
Bio:
A history teacher at Grimm, Jutendouji was born and raised at the school. Born as a fully developed child(around 6 or 7) able to read and speak to a human widow, nobody really knew what to call him or how he came to be. As expected his mother could not handle her situation, so as an act of mercy the staff of Grimm took her to the edge of a human city and wiped her memory. Feared and tormented by his fellows Jutendouji studied history in a hopeless attempt to find out just what he was. As he grew and learned the staff started to train him to take over the day time history class.
Appearance:
Eyes are crimson red
Other:
Jutendouji never found out the truth behind his origins
Name:
Jaab R. Wok
Age:
Unknown
Gender:
Unknown
Height:
6' 7"
Category:
Fable
Abilities:
Spell Crafting and Telekinesis
Bio:
Jaab was born when a mad mage wove magic into his writing. Though most of his fellows were hunted and killed Jaab found sanctuary at Grimm. Mature in body but child in mind, not many were sure of what to make of him. It wasn't until the full extent of his spell crafting was discovered that students tried approaching Jaab and Staff took interest. Starting his own class, after much maturing, Jaab is now a well respected teacher of Spell Crafting and Charms.
Appearance:
Other:
Jaab is the only Fable from Alice In Wonderland that survived. As far as he knows.

_________________
They ain't got BALLS LIKE MINE!
(╯°_°)╯︵ ┻━┻

Yoshiki

Admin




Posts

: 2421


Join date

: 2013-08-09


Age

: 24


Location

: Home



Name: Alexander Gray
Age: 18
Gender: Male
Height: 5'7"
Category: 'Accident'
Abilities:
Healing Kiss
When he kisses the wound, or person who is hurt, it heals the person who is kissed. (only works on minor wounds. wont work on fatal wounds)
Bio: Is older brother to Sasha Gray, but keeps it a secret from her, for her own protection. He came to Grimm to watch out for his sister, and because the humans were not welcoming to him in their own school. He has no parents, as they were killed by a human mob, the same mob that almost killed his sister.
Appearance: His eyes always shine red, they dont change like Sasha's
Other: Can eat normal food, but requires blood to survive.

_________________
I am an Asgardian princess, who loves wolves


Similar topics
---
Permissions in this forum:
You
cannot
reply to topics in this forum